Amazon (Part II): The Unfulfillment Company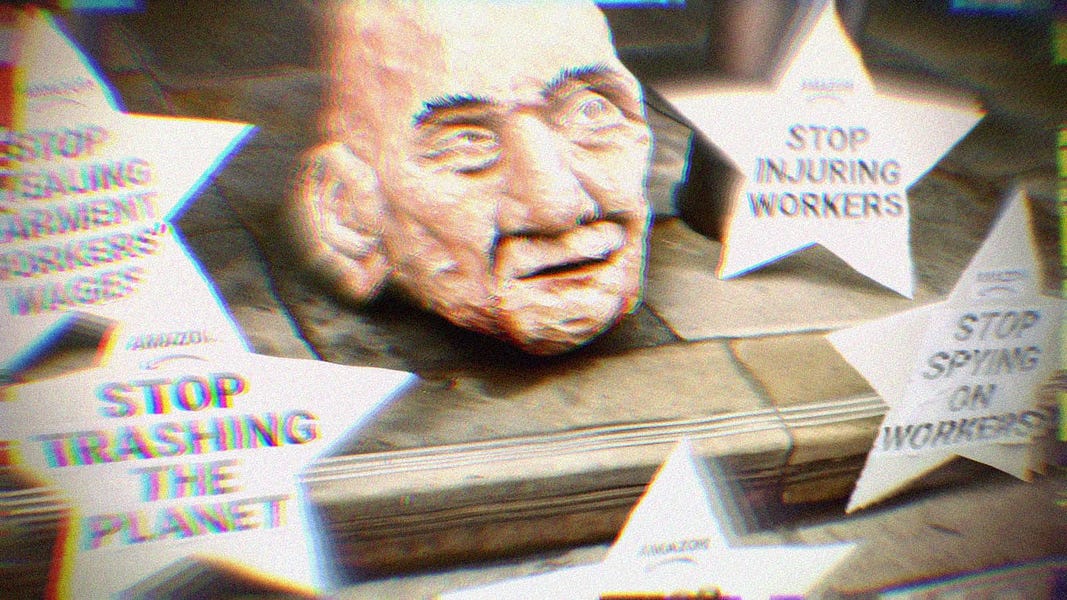 Summary: The Unfulfillment Company.
✉️

Never Miss an Essay! Subscribe Now
In Part I, we first established that the global giant isn't exactly a great neighbor in its hometown of Seattle. The prime example being how hard it fought against a "head tax" on the number of people a company employs in the city, which would go toward combating homelessness. It was estimated at the time Amazon lobbied to kill the bill that would have cost Amazon $12 million a year when it was turning a billion-dollar-a-quarter profit.
We examined Jeff Bezos's extreme focus on the customer to the exclusion of all else, most notably his hourly employees, which many tout as the secret to Amazon's success. How it modeled its future success on an all out assault on the publishing industry, a strategy that it would employ over and over again as it began to dominate multiple arenas. How its top line success generated massive gains for shareholders while employees struggled to make ends meet. (This was best illustrated by its industry leading 150% turnover rate and the shocking number of its workers who were forced to apply for SNAP benefits.)
And we recapped Amazon's ability to game the political system through lobbying efforts and persuasion in the halls of power to win lucrative government contracts and change the nature of RFPs to own the government procurement process.
The result, thus far, has been historic. Truly.
Amazon is now the third largest company on the planet and the second largest in the United States behind only Walmart, which it will likely surpass in the next year or two. Building a better mousetrap and controlling politicians isn't exactly unique to Amazon, though. So it still doesn't explain how this one-time online bookseller was able to literally upend all business conventions, surpass its peers in tech in terms of outright volume, make its founder the wealthiest man in the world and grow so big even the U.S. government is incapable of taming the beast.
So, today, we'll dig a little deeper in the business itself.
We'll look at some of the different business units that contribute to Amazon's massive top line revenue and are extreme profit centers, and some key acquisitions over the years that offer some insight into just how big Amazon's appetite is and how it learns and grows almost like it's a sentient corporate being.
Unlike some of its peers, Amazon rarely has a misstep it doesn't learn from. Facebook's half assed entry into crypto, failure to launch competitors to Groupon and Foursquare and various developer platform flubs were all heavily publicized misses. Likewise, Google has had its fair share of flops from a would-be competitor to Twitter, Google glasses, Google+ and others.
That's not to say Amazon succeeded with every new idea. In fact, it probably has more product failures in the graveyard. But what's fascinating about its more notable failures is that it somehow had the ability to learn and grow from them to create new and improved concepts based on the original. Or, to somehow turn it into an expensive win in the long run. For example, one of the acquisitions we'll cover was Quidsi, parent company of Diapers.com and Soap.com, among other big online retailers. Even though Amazon eventually shut down these divisions, it effectively shut a large competitor out at the same time.
Bezos has always been quick to shut down initiatives that don't show promise, but pieces of them tend to appear in future releases or its core product. Always testing, iterating and improving.
We'll finish up today looking at some small, but important, victories against the retail titan and try to assess the total impact of arguably the most impressive but dangerous company the world has ever seen.
Chapter Four
Big, Bigger, Biggest
Looks like ol' Amazon is slowing down a bit from its pandemic high. Its first quarter revenues for 2021 grew 44% over 2020, an indication of just how dominant the company was during the pandemic and how it increased the velocity and volume of sales on the platform. Contrast that with the first quarter of 2022, where it grew only 7% over the same period last year. That's what Wall Street considers a slowdown; only 7% growth over an already preposterous revenue number.
That's not to say the company isn't facing some headwinds as it deals with supply chain and inflation issues that confront us all. And it did report a loss for Q1, though this was due to a massive write off and higher than normal costs related to the unprecedented expansion of warehousing across the country.
The first will help them avoid taxes and the latter will serve them in the long run, as capacity was a critical issue. So, on the books, these measures affected its profitability, but the fact remains that Amazon is a fucking monster.
One of the ways it is dealing with inflation pressures and mounting costs of expanding its physical presence is by passing along costs to the consumer. As one does. It increased the cost of its Amazon Prime membership by $20 and has found ways to pass along fuel surcharges to vendors who leave surplus inventory in its warehouses. But, on the whole, Amazon's growth is beginning to normalize where consumer spending is concerned as consumers feel more comfortable venturing out into the world.
But consumer online spending is just one aspect of Amazon's business. As The New York Times reports, "Amazon also had bright spots in its business. Amazon Web Services, its cloud computing business, grew 37 percent in the quarter, to $18.4 billion in sales."
This is just one of Amazon's burgeoning business units that are growing exponentially. On their own, many of these divisions are formidable. Taken together, they begin to paint a picture of an unstoppable force in the nation's economy. The world, for that matter.
All told, Amazon posted revenue of $468 billion in 2021. In Q1 of 2022, Amazon net revenue was just over $116 billion, which puts it on a pace to exceed half a trillion dollars this year because the fourth quarter is historically its best by a significant margin. At that point, it will be well on its way to exceeding Walmart's revenue, making it the largest revenue generating company in the world. For context, even at the 2021 ending figure of $468 billion, Amazon is larger than the GDP of the following nations:
Nigeria, Iran, Austria, United Arab Emirates, Norway, Ireland, Israel, Hong Kong, Malaysia, Singapore, Philippines, South Africa, Denmark, Colombia, Bangladesh, Egypt, Chile, Finland Vietnam, Romania, Czech Republic, Portugal, Iraq, Peru, Greece, New Zealand, Qatar, Algeria, Hungary, Kazakhstan, Ukraine, Kuwait, Morocco, Slovakia, Kenya, Ecuador, Puerto Rico, Ethiopia…
You get the picture.
Basically, if Amazon were a nation, its revenues would rank it as the 27th largest in the world. As we've mentioned, only Walmart and China's state-owned energy company, State Grid are larger at the moment. For now.
So let's take a look at all the ways in which Amazon makes it rain.
Here's a summary of Amazon's revenue from Insider Intelligence. The numbers are staggering, the avenues are diverse, and this only represents a single quarter. Fourth quarter of 2021, specifically.
Online retail
In just Q4 of 2021, Amazon did $66 billion in sales from products like books, games, music, software, you name it. One of the reasons their sales typically jump so much in the fourth quarter, beyond just the holiday shopping season in the U.S., is the Black Friday to Cyber Monday stretch. According to Insider Intelligence, "By our estimates, Amazon's global retail e-commerce sales will reach $729.76 billion in 2022, an 18.8% increase year-over-year (YoY)."
Third-Party Sellers
The next largest segment is the third-party seller services, coming in at a cool $30 billion for the quarter. So, apart from the items and inventory Amazon manages and sells on the platform, it has partnerships with tons of third-party sellers who sell through Amazon's marketplace. Of course, this isn't free, or even cheap. Here's what the report says: "According to the Q4 2021 earnings report, more than 130,000 third-party sellers worldwide surpassed $100,000 in sales on Amazon, between Black Friday and Christmas Day. U.S.-based third-party sellers also smashed records, selling an average of 11,500 products per minute."
Amazon Web Services (AWS)
This next segment is a little more complicated, but awesome in scope. It's called Amazon Web Services. Folks in business might recognize this because AWS servers are very popular hosting environments. In the IT world, it's huge. AWS is a global cloud hosting network with myriad tools for developers. It's an extremely profitable sector for Amazon, which has quietly grown over the past several years. In Q4, it brought in nearly $18 billion, growing 40% over the same period last year. The report attributes this explosive growth to marquee customers like Nasdaq, Meta, Goldman Sachs and Pfizer moving their digital infrastructure over to AWS.
Alec MacGillis, author of Fulfillment: Winning and Losing in One-Click America, writes:
"In 2013, it won a $600 million cloud contract from the CIA, and branches of the military were starting to explore shifting to the cloud, too… By 2017, AWS was providing cloud services to, among others, GE, Capital One, News Corp, Verizon, Airbnb, Slack, Coca-Cola, and even direct rivals like Apple and Netflix, while bringing in more than $17 billion in revenue for the year—a tenth of Amazon's total… Between its dominance of the cloud and its dominance of online sales, Amazon had positioned itself as a gatekeeper that extracted fees—what economists called "rent"—on two of the biggest realms of digital commercial activity, data storage and e-commerce… You could compare it to a utility company—Amazon had, in essence, slapped a meter on the side of the nation's data centers, except without the regulatory limits that utilities faced."
As of 2022, it's estimated that AWS has a 34% market share of the so-called cloud. Taken together, AWS, Microsoft and Google control 65% of the global spend on cloud computing services, with Amazon growing at a much faster rate than its peers.
And if you still think you're escaping the prying eyes of Amazon, just know that AWS hosts streaming services like Netflix, Disney+, HBO Max, Peacock, Discovery+ and Hulu in addition to, of course, Prime Video. Another way they monetize your eyeballs is through advertising.
Advertising
Most people associate online advertising with companies like Meta and Google. So this is one of the areas that has surprised Wall Street analysts the most.
Amazon's digital ad revenue increased 32% over last year to a staggering $9.7 billion in Q4 of 2021. The full year shows that Amazon's ad revenue division brought in $31 billion. That's more than it brought in with Amazon Prime and—get this—more than YouTube. One of the reasons this was such a surprise is because 2021 is the first year that Amazon broke out advertising revenue specifically on its earnings call.
All told, Meta, Alphabet—parent company of Google and YouTube—and now Amazon control three quarters of the digital advertising revenue and 50% of all advertising in the United States. For some perspective, Snapchat made $4 billion in revenue, and that's their core business model. Amazon's ad revenue alone is seven times that amount.
Prime
Most of us probably think about Amazon Prime as same day or next day delivery. Basically, preferred status for delivering to our doorsteps. But Prime comes with a lot more than that. Prime members have access to videos, audiobooks, music, e-books and other subscription services, all in the Prime bundle. While the company held down the cost of Prime since 2018, it raised the monthly fee to $14.99 this year to help offset increased labor and transportation costs. You know, because you can't expect a company to absorb inflation and cut into profits.
It's estimated that there are now 157 million Prime users in the United States, which explains why subscription revenue increased by 15% last quarter to $8 billion.
Physical Retail
Let's round out with the physical world, though I should point out that this is not a comprehensive list. Amazon has any number of smaller divisions, innovation centers and concepts that drive revenue, but we're focusing on the big ones worthy of exploration on their earnings calls. So, you'll recall that Amazon purchased Whole Foods in 2017. This still makes up the bulk of their retail presence, but Amazon also operates some other branded retail concepts like Amazon Fresh, Amazon Go, Amazon Books, etc. When it comes to brick and mortar though, the company is quick to shut down concepts that aren't working.
As Insider Intelligence notes, "While these concepts may never generate the level of revenues brought in by Amazon's e-commerce business, they will continue to serve as discovery platforms for the products and services available through Amazon, whether in-store, online, or somewhere in between."
Chapter Five
It's a matter of antitrust.
Calls to break up Amazon aren't new. It's a tempting narrative, but we have to know what we're talking about. What exactly we're breaking up.
We just reviewed Amazon's biggest divisions. Does it help to break off a piece or multiple pieces? Will taking Whole Foods out of the equation curtail Amazon's growth? Shutting down Amazon studios? Do we pick apart their platform somehow so they can only sell certain items?
Amazon isn't Ma Bell. We can't just regionalize it because it gathers and ships products all over the world. It isn't Standard Oil with a stranglehold on a single product that literally and figuratively fuels the entire economy. Amazon is a diversified juggernaut with a finger in multiple pies.
Its recent purchase of MGM might be the first real test, as there are some that believe the $8.5 billion deal could be unwound. It's funny how Amazon became the second largest company in the United States without much friction from the government, but when it purchased MGM's catalog of more than 4,000 movies and 17,000 television episodes, people were like WHOA! Don't you mess with reruns of Flipper, you motherfucker!
Diversification is just one key element of Amazon's defense when it comes to talk of breaking it up. Looking at some of their biggest strategic acquisitions shows just how diverse the company has become. MGM for $8.5 billion and Whole Foods for $13.7 billion in 2017. Or how about Zoox, a self-driving startup, for $1.2 billion. Ring for $1.2 billion in 2018, so you can see people steal your Amazon packages.
Or, for all you gamers out there, since 2014, Twitch has been an Amazon property. So when you're live-streaming with you and your armchair warrior buddies as you pretend to be Navy Seals or whatever the fuck you do, Amazon's watching.
So those are some examples of purchases that helped Amazon diversify. While they might not make sense on the surface, they all contribute to the intricate web of brand identity that has made Amazon ubiquitous. There are other notable acquisitions that make more sense with respect to the core online shopping operation such as…
Zappos, the popular online shoe retailer purchased for $1.2 billion in 2009. I can't believe it was that long ago.
Or PillPack, a startup online pharmacy delivery service licensed to deliver medicine throughout the United States. Amazon bought the company for $1 billion in 2018.
Then there's Kiva Systems, a robotics firm that has helped Amazon automate a huge portion of its warehouse operations globally. Originally a vendor, Amazon figured it would be easier to own the technology—i.e. prevent others from having it—cough/cough Walmart —Kiva went for a cool $775 million in 2012.
Amazon also bought Souq, a middle eastern e-commerce giant, for an undisclosed sum. But we do know it paid $545 million to take over Quidsi, owner of Diapers.com, BeautyBar.com, Soap.com and other prominent online retailers in 2011.
Food. Pharmaceuticals. Home Security. Entertainment. Autonomous driving. Online retailers. Robotics. Gaming.
Or, put another way, what you eat. Drugs you take. Surveilling your home. What you watch. How you drive. What you buy. Games you play.
To break up a big company, you have to be able to explain or understand what it is. What exactly are we proposing to break up?
As we mentioned, a simple way to look at it would perhaps be to chip away at the parts. Take out Whole Foods. Fuck 'em. Make them split off Twitch. Tell them they have to stay out of self driving automobiles. That would be a more traditional, or I suppose antiquated way to look at it. Because, as we've said, busting up the whole online platform like a Ma Bell isn't as feasible because it's a digital, international system, as opposed to a physical network of cabling that could be regionalized. So, essentially saying to Amazon, 'you're too big so we're going to carve you up.'
The problem with that scenario is that it's unclear whether any court would see it that way. There has to be clear evidence, in theory, that a concern has grown so large that it's 1) presenting unfair competition in the marketplace or 2) is driving up prices for the consumer. The first concept is probably easier to pursue, though the burden of proof is pretty high, and I'll explain why in a minute.
The latter scenario involving consumer prices is more straightforward and, in a bizarre way, works in Amazon's favor. Here's Barry Lynn from the Open Markets Institute explaining the conundrum in a PBS documentary about Amazon:
"It's important to understand that there are two fundamental philosophies of antitrust, anti-monopoly law. You know, there's the traditional philosophy, in which you want to break up all potential concentrations of power that you can. But, for the last 30 years, there's been this change in how we do antitrust. And this is the idea that the only purpose of antitrust should be to drive prices lower, to serve the interest of the consumer."
Right. So if the only acceptable avenue over the past several decades is to break up a company because they pose a concentration risk regarding prices, then it's hard to argue that the company most responsible for driving down the price of goods is a candidate to be broken up.
Yeah. Tricky stuff. Like Walmart, Amazon is designed to drive prices down by extracting as much as it can from labor and suppliers. Crushing other human and corporate margins in service of delivering low cost goods to the consumer.
Then there's the concentration argument itself. The idea that even if a company has driven prices down—and let's pretend they've done it without being anti-competitive in any way—its sheer size presents the possibility of controlling prices without safeguards. On this, Amazon has a different argument.
According to Pymnts.com, an online source that tracks all things related to servicing digital payments, Amazon topped 56% of all online retail sales in 2021. That, my friends, is encroaching on monopoly territory. And that's the argument made by those calling for Amazon to be investigated for antitrust violations. In fact, as MacGillis writes in Fulfillment:
"In October 2020, the Democratic staff of the House subcommittee released a 449-page report on its investigation into the tech giants' dominance, calling on Congress to take action to break up the companies."
MacGillis pointed to a Wall Street Journal investigation that found, "Amazon employees had repeatedly accessed documents and data about specific popular products before Amazon introduced almost identical products."
That's the power of consolidated data and having access to everyone's information, purchasing habits, spending power and spending habits. Combine that with controlling ad budgets, what you see on television or product placement on the big screen, while you're gaming, etc. and a different picture emerges of just how much mindshare Amazon controls.
You can only buy what you can find. That's different than driving prices down, but the mechanisms of control exist nonetheless. Where Amazon extracts pain is on the seller side of things. Again, MacGillis:
"Sellers are blocked from building relationships with customers and strongly discouraged from selling items for a lower price on any other site; sellers' terms and fees on the marketplace could change without warning. For many merchants, Amazon could collect more than 30 cents of every dollar spent, once you added up commissions, fulfillment fees, advertising on the site, and account management deals, some of which were optional for selling on the site, but hard to avoid for sellers hoping to succeed."
There are other hidden costs. For example, if you're a third-party seller, Amazon doesn't let you have the customer's data. Sure, you get it eventually, but you have to pull out the stops to connect with your own customer because the real data—cookies, email, tracking pixels—are housed within Amazon. Which means that if there are other follow-up purchases to be made, Amazon has the direct pipeline to your customer way ahead of you. That's another hidden cost of working with Amazon.
Many retailers will see the first sale as a "loss leader" and attribute it to the cost of customer acquisition. Once a customer is acquired, it then tries to make the relationship permanent. It does this by offering coupons, enrolling them in "drip campaigns" where the company emails you on a regular basis, following you around as you browse the internet with pictures of other items to purchase, etc. All of this can be done if you have a direct link to the customer at the time of purchase. Because Amazon owns this relationship, you don't actually get access to this key information, so you have to try other means to win over the customer after they've already purchased an item from you.
They also have the ability to draw customers' attention away from you. You've seen it on the site. Prompts like, "you might also be interested in," "customers have bought these items together," and so on. Tactics like "retargeting"—the strategy of serving you ads for things you've looked at when you're visiting another site—is then controlled by Amazon. So even if a customer is interested in your product, Amazon can offer their own products or make you bid to find that customer because you don't get that customer's information, even after they've made the purchase from you.
In the end, your loyalty as a consumer becomes less about the label and more about the platform.
So now, let's revisit why, despite these incredible odds in Amazon's favor, the company has been able to effectively argue that it is far from a monopoly. When pressed by Congress, Amazon was able to claim at the time that, despite a controlling interest of online purchases, digital sales only represented about 5% of total retail when brick and mortar were added to the equation. Remember, this was only a couple years ago when Congress released their findings.
This argument was enough to scuttle any deeper talks of breaking up Amazon, because they had a point. Forget the fact that only two years later and that share has grown to 9.4%, according to Pymnts.com, for the first time beating out Walmart's 8.6% share. The fact is, these figures aren't enough to claim a monopoly.
On the surface, it sounds like a reasonable argument. Until you consider that total retail figures include things like gasoline, food, cars, boats, etc. So, in a way, it's apples and oranges, but in the strictest interpretation, this argument was enough for Amazon to avoid further scrutiny. Even though there were clear examples of anti-competitive practices, such as its purchase of Quidsi. Did Quidsi get paid handsomely for its troubles? Sure. But only after Amazon directly undercut key product lines like diapers so much that Quidsi was bleeding millions of dollars. Ultimately, it was just easier to sell.
One might think examples like this would be enough to bring real scrutiny, but Amazon can always fall back on its central argument: It exists to serve the customer. Low prices is just one of the ways it accomplishes that. Bad enough it treats workers like shit, but when you think about Jeff Bezos's customer centric mantra, it takes on a whole new meaning when viewed through this lens.
Final thought on this chapter goes to Pitchfork Economics' Nick Hanauer, as quoted in Fulfillment:
"Jeff's perspective is the canonical neoliberal perspective: that the only purpose of corporations, the only purpose of shareholders, is to enrich themselves to the exclusion of everything else. That is the highest sole responsibility. Maximize shareholder value and somehow magically that will create the common good. If the only fucking thing that matters is the stock price, why in the world would you do anything else?"
Of course, Unf*ckers will recognize this canonical sentiment as it can be directly ascribed to Milton Friedman.
Chapter Six
Tiny Victories
Remember when AOC was blamed for killing a deal to build a mega Amazon warehouse in her district? Liberal and conservative media alike roasted the Congressperson for being the NIMBY face of opposition to these plans. Her district didn't want it because her constituents didn't need it. We covered it long ago in an episode about AOC. What her district needed wasn't low wage warehouse jobs. Employment simply wasn't an issue. What they needed was affordable housing.
AOC's larger point, which hopefully resonates a little more after Part I, was that offering any sort of concessions or incentives to Amazon, given its size and profitability, was irresponsible. Removing productive tax paying properties from the rolls would only serve to rob her district of vital revenues. But it didn't matter. Everyone was angry. From Governor Andrew Cuomo to a group funded by Robert Mercer that paid for a billboard in Times Square blaming the loss on Ocasio-Cortez: it read, "Thanks for Nothing, AOC!"
And, when it came to where Amazon's famed HQ2 would be located, states, cities and counties around the country knelt before Bezos to offer the sun, the moon and first born. But none of these areas had what Bezos craved the most, and that was proximity to power in Washington D.C. So Virginia, with its proximity to D.C. lawmakers, its battery of lobbyists and The Washington Post, the jewel in Bezos's crown of propaganda, was chosen instead.
For a fleeting moment, AOC shouldered the burden of proving that people could stand up for what was in their best interests. Even against the biggest, loudest bully in the room. And, for a while, it stood alone as a tiny victory. David over Goliath. Until someone else came along. Someone without a bully pulpit. Or a million followers on Twitter. No status as an elected official or influencer. Just a worker.
We quoted it in Part I and there's a neat part of Fulfillment at the end of the book, kind of a postscript about union organizing where MacGillis talks about how Amazon "fired a worker who organized a walkout at the huge warehouse in Staten Island, saying he violated safety protocol by coming to the warehouse while under self-quarantine."
We now know that this employee was Chris Smalls, and he was just getting started. Ari Melber, MSNBC:
"Steven Greenhouse, who I've always read as a labor reporter—he's covered this space that you're working in for decades—he said today, 'In my 25 years writing about labor, the union victory at the Amazon warehouse in Staten Island is by far the biggest, beating-the-odds David versus Goliath unionization win I've seen.'"
They fired him. Then forgot about him. Everyone underestimated him.
By now you might have seen this, but I want to leave it out there. Because there's nothing I can say or offer that can touch the power of the statement made by Christian Smalls when pressed by Lindsay Graham at a Congressional hearing. Graham criticized Smalls' efforts and promised to restore power to corporate America when Republicans take back control of Congress. Here's how Smalls responded:
"First off all, I want to address Mr. Graham… It sounded like you were talking about more of the companies and the businesses in your speech. But you forgot that people are the ones that make this, that make these companies operate. If we're not protected. And if the process for when we hold these companies accountable is not working for us, then… that's the reason why we're here today. That's the reason I'm here to represent the workers who make these companies go. And I think that it's in your best interest to realize that it's not a left or right thing. It's not a Democrat or Republican thing. It's a workers thing. It's a workers issue. And we're the ones that are suffering in the corporations that you're talking about, or the businesses that you're talking about. In the warehouses that you're talking about. So that's the reason why I think I was invited today to speak on their behalf. And you should listen, because we do represent your constituents as well."
This is what I was alluding to in Part I. Taming the beast. We might not have the power or understanding of how to put Amazon back into the bottle. That genie might have escaped. But it doesn't mean we give up the ghost.
Epilogue
Bring it home, Max
"I want to thank every Amazon employee and every Amazon customer, cuz you guys paid for all this." -Jeff Bezos on going to space.
People thought this was a seriously out of touch thing for Bezos to say. But he really meant it. Part of what makes it easy to root against Amazon is that Jeff Bezos is such a dick. Elon Musk is a polarizing charlatan for sure. But like I said in Part I, Bezos is an actual evil genius and a mastermind. And now he's too big to control. As MacGillis observes:
"There was the extreme wealth inequality encapsulated by its founder's outlandish personal fortune and the modest wages of the base preponderance of its employees. There was the nature of the work most of them were engaged in: rudimentary and isolating, out on the edge of town, often with unreliable hours and schedules. There was the immense influence the company had amassed over the country's elected government. There was the unraveling of the civic fabric that the company contributed to, through its undermining of face-to-face commercial activity and the tax base of countless communities."
The neoliberal winner-take-all attitude might make Bezos the darling of Wall Street and subject of Harvard Business case studies—there are two of them so far—it belies the underlying evil of a corporation built to extract. To take your money. Your data. Your attention. Your time.
With insane revenues and profits and such a controlling market share of multiple industries, it would be such a small thing to honor one's workers. Especially now that these workers represent one out of every 160 workers in the country. But Amazon antagonizes them every step of the way. And they have 150% turnover. Fighting all efforts to organize for better protections. In so many ways, Amazon is the perfect proxy for America. The pinnacle of the libertarian dream conceived by James Buchanan, Robert Mercer, Charles and David Koch, Richard Fink, Ayn Rand, Peter Thiel, John Olin, Joseph Coors, Dick DeVos and Michael Horowitz. I can't even include Uncle fucknugget on this list because what these people did to pervert Milton Friedman's misguided worldview should be criminalized.
But make no mistake, Amazon is a byproduct of their efforts.
Beyond the abuse of the working class, extraction of surplus capital from the system, tax evasion, propaganda campaigns, influence peddling, data theft and unrelenting push toward mindless consumerism, there's a cost that we're all unwittingly bearing.
Amazon was shamed into participating in a global climate accountability project in the past couple of years. Something it had refused to do long after its peers in the corporate world had signed on. Its first assessment earned the company an "F" grade, which prompted Amazon to act. But not in the way one might hope.
As Reveal News reports, "Amazon takes responsibility for the full climate impact only of products with an Amazon brand label, which make up about 1% of its online sales."
Basically, instead of complying with global standards and targets, Amazon worked diligently to manipulate the data it reports. As Reveal continues, "If Amazon were counting its footprint like some of its competition, it would have to get rid of tens of millions more tons of carbon emissions—by radically transforming its business, forcing suppliers to change their own operations, paying for enormous amounts of controversial carbon offsets or maybe even confronting whether The Climate Pledge is compatible with Amazon's business model after all."
Between its AWS server infrastructure, tens of thousands of vehicles on the road, global distribution and logistics network and downward pressure on suppliers to cut costs at the expense of investing in better standards, Amazon is a one-stop-climate disaster. The only reason it even works to pay lip service to sustainability is because it's popular among investors and allows them to remain in giant ESG portfolios. That, Unf*ckers, is the definition of greenwashing.
Not one of you. Not a single person that gets by in this modern world can escape the influence of Amazon. If you're not one of the 150 million Amazon Prime customers, then you've probably watched a show on a streaming service that distributes on their cloud server infrastructure. At a minimum, you've been on a website that lives in the AWS environment. Maybe you've even shopped at Whole Foods. Bottom line. They know more about you than most of your friends and acquaintances. (Maybe even some family members, depending on your digital footprint.)
A couple years ago, I was speaking with a CTO at a big tech company in New York City who was on a tour at Amazon HQ. At the time, Amazon had yet to construct the massive network of warehouses it currently maintains, so in order to fulfill the promise of Amazon Prime, it relied on predictive AI. They demonstrated technology that built models around your personal spending patterns, seasonality, items that you've purchased in the past. They knew when you got paid. What your financial situation was. Your credit limit. Armed with a data-rich profile of you, Amazon could paint a predictive portrait of your consumption so accurately that it would begin shipping your items to local warehouses before you even placed them in your cart.
If they guessed right, they could keep their Prime promise.
If they didn't, no harm, no foul. You'd buy it eventually.
That's the power of data. There are many who love this and think it's making the world a better place. There are others who understand the terrifying power of potential manipulation at a scale never before seen in the world. And, because we exercise so little control over this behemoth, we are forced to trust that it will protect the best interests of society. Us. You know… The customer.
Jeffrey Bezos is not your friend.
Smalls is the real giant.
Tame the Amazon.
Here endeth the lesson.