About Unf*cking the Republic

®
Just what the world needed.
Another basic white guy with a political podcast. We know.


But if you've made it here, then it's possible you've already listened to an episode or perhaps you're even a fan of the show. For this, we are eternally grateful. And hopefully you can also tell by now that this is a different kind of show. We take a deep dive into a singular topic that is either misunderstood or simply underreported and present it in a compelling style that injects a bit of NY-style sarcasm and humor into each episode.
Hopefully UNFTR will lend comfort to reasonable people who wonder if they're the only ones who can truly see the shit going on around us for what it is. For others who are politically curious, our hope is that this show will open new pathways to understanding the American political system that steer clear of corporate media narratives.
Either way, we'll traverse this audio journey together to upend conventional wisdom, blow up narratives on both the left and the right and use magical devices like facts, logic and reason to explain how we arrived in Bizarro America, the funhouse mirror version of what was originally intended. To be transparent, this show comes from a progressive angle so we're typically blowing more shit up on the right than the left. But, the left has it's problems as well, so we'll be judicious in our scorn.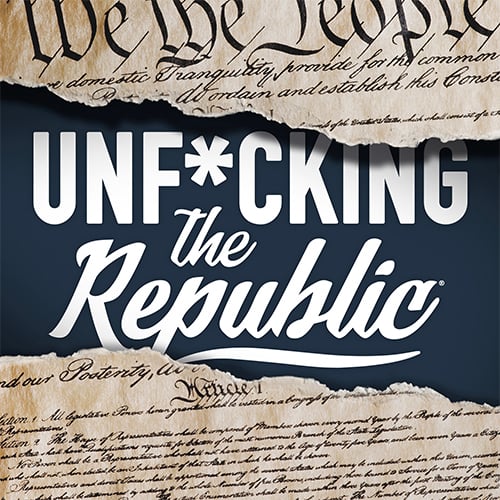 If nothing else, you'll gain knowledge that will help you win arguments with friends, family and co-workers.
Isn't that what life is all about?
Lastly, the term "Unf*cking®" implies that we have answers to the issues we cover. But that's not always the case. Sometimes we're able to point to direct and reasonable "fixes" to our problems. Other times, it's the context alone that is required to even begin on the journey toward fixing them. Developing a shared language to speak about the issues that plague the American system is the first step in moving big initiatives forward and doing the work required to actually get things done.
About the Hosts
Max is a former political columnist from the wonderful world of alternative weeklies (remember those?) who prefers the subject matter take center stage. He's a basic, middle-aged white guy who developed his cultural tastes in the 80s (Miami Vice, NY Mets), became politically aware in the 90s (as a Republican), started actually thinking and writing in the 2000s (shifting left), became completely jaded in the 2010s (moving further left) and eventually decided to launch UNFTR in the 2020s. His co-host "99" is a whip-smart vegan Millennial who loves and protects animals. She provides the grounding for the show, calls Max out on his bullshit and is responsible for the website, show art, essay editing, coffee distribution, digital and audio accessibility, listener feedback, Show Notes preparation, the UNFTR Bookshop, show art and booking "Phone a Friend" guests. After reading all of this, you're probably beginning to wonder why she even needs Max. We are too.
About the Name
The crassness of the show title is unfortunate. But how else were we going to get your attention? Plus, as we know, things are indeed pretty fucked. So we leaned into the profanity in order to draw attention to some really important shit.
About the Engineer
The engineer/editor/sound designer of Unf*cking the Republic® is Manny Faces Media, an award-winning company based in Atlanta. The company namesake, Manny Faces, wasn't always in ATL so we forgive him this sin (we're New Yorkers). Manny is a Hip-Hop journalist and speaker, as well as a podcast producer for shows such News Beat and Hip-Hop Can Save America.
Original Music
Our theme songs are composed and recorded by the inimitable Tom McGovern. Visit TomMcGovern.com to learn more about Tom and his services.